Circus In Motion is a contemporary circus arts company that offers social circus workshop and visually captivating circus performances. We specialize in inventive live performances and the creative use of geometrical shapes to perform our circus acts. We take pride in being the first company in Singpore to perform the Cyr Wheel, the Giant Cube and the Ultraviolet pyramids in a series of events such as the Esplanade's Flipside Festival 2012, True Hearts CommChest 2011 on Mediacorp Channel 8 as well as on Oktolive!

The founder of the company Jay Che, is social work trained and has worked as a social worker doing youth work prior to setting up the company. He sees a service gap in that children and youths are often not given the opportunities to express themselves through alternative means. Thus, Circus In Motion was set up. The company has since worked with more than 3000 under-privileged children and youths from a broad spectrum of settings; residential homes, special needs schools, Normal(Technical) Stream students from main stream schools and certain underprivileged communities overseas like Thailand, Malaysia, Indonesia and Cambodia.
Edward Chua
Senior instructor
Edward Chua, a senior instructor of Circus In Motion, started learning circus arts at the age of 14. He took a special interest in circus art when his school chose him to be part of a circus arts workshop. He has since gone full circle to becoming an instructor conducting circus workshops in special and mainstream schools. He had also taken part in international diabolo competition (PEH CUP 2012) and performed at Esplanade's Flipside Festival 2012 and 2016. Edward's main interest in circus art lies with the diabolo.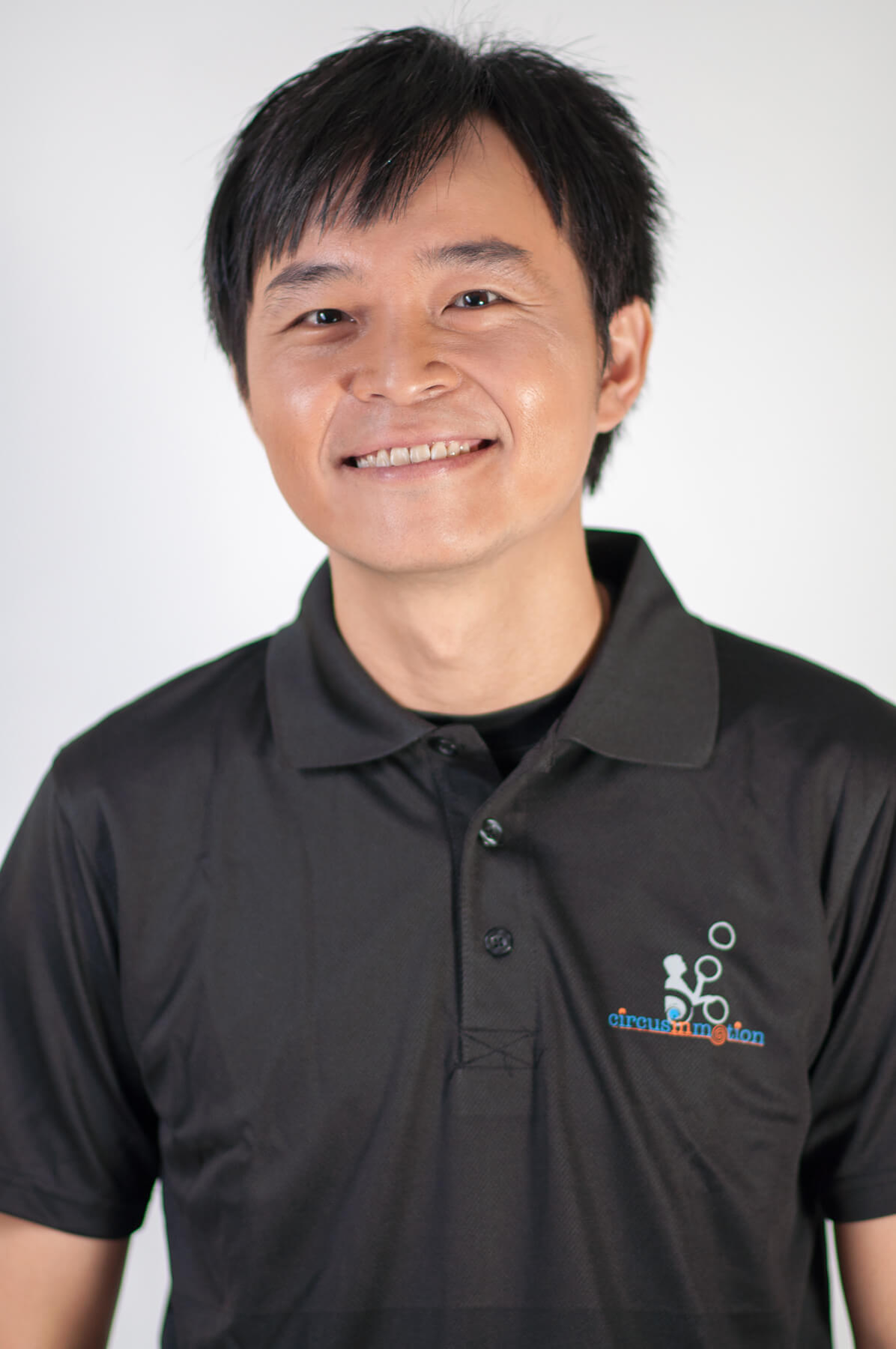 Jay Che
Principal instructor
Jay Che, the principal instructor of Circus In Motion graduated with a degree in social work from the National University of Singapore. A chance meeting with Cirque Du Soleil's social arm, Cirque Du Monde made him decide that social circus would be this outreach tool to youths. Trained by Cirque Du Monde's "train the trainers" programme in Melbourne in 2002, 2003 & 2008, he has since gone on to conduct circus workshops to youths in special and mainstream schools, the Boy's/Girls' Home as well as in prison schools. He has also done outreach programmes in Malaysia, Indonesia and Thailand. Jay's main interest in the field of circus arts is object manipulation. His repertoire includes contact Juggling with crystal balls, wine glass balancing with this mouth. He has performed in more than 18 countries around the world.
Benjamin Ye
Instructor
Benjamin Ye is an instructor of Circus In Motion who started learning circus arts at the age of 12 as part of a program for troubled youths. He was drawn to the excitement and magic of the diabolo and quickly discovered a talent for it. He is now on the opposite side of the workshops, teaching diabolo and imparting lifeskills in the process of doing it. He has appeared in numerous corporate shows with Circus In Motion performing his signature diabolo act.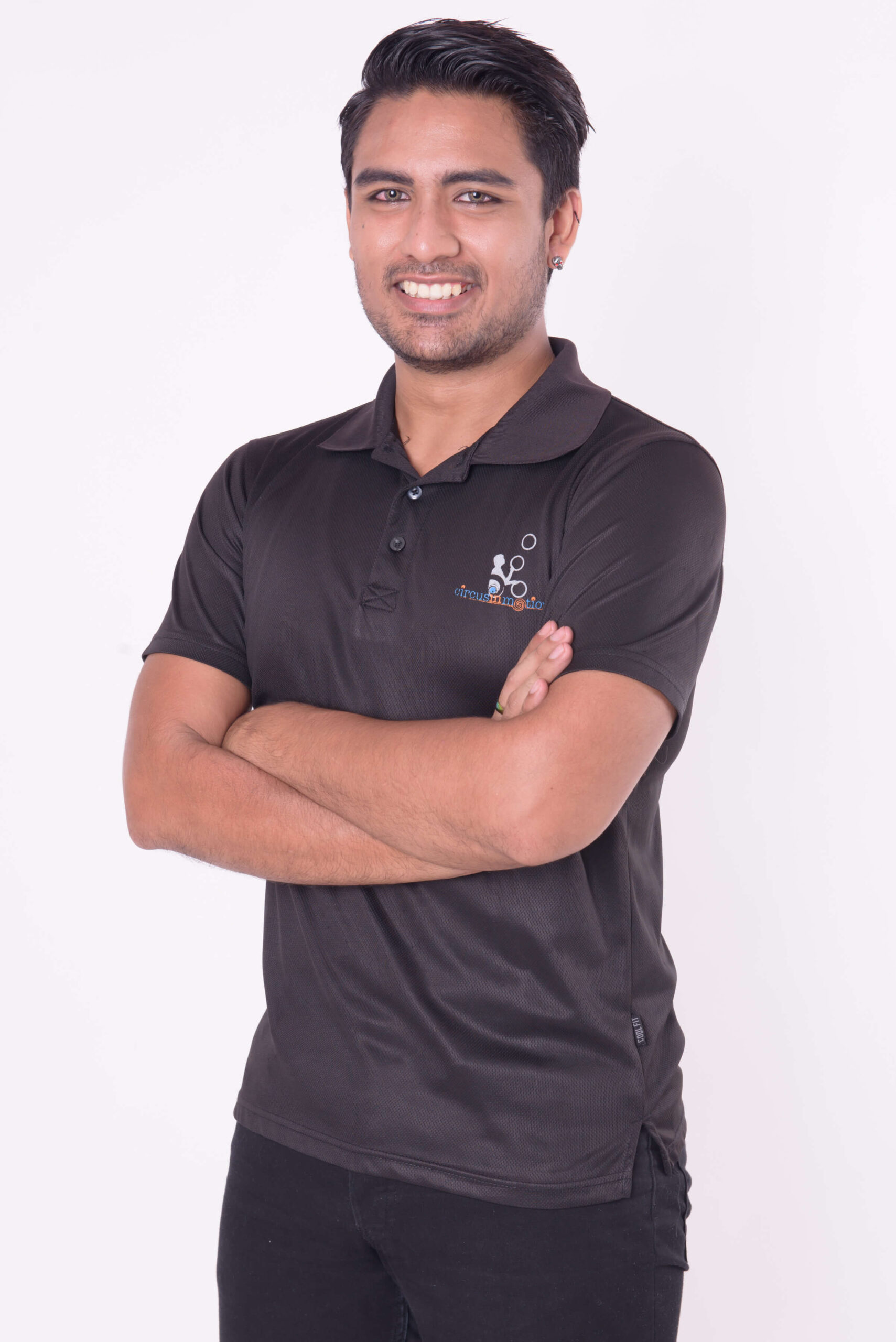 Firdaus
Instructor
Firdaus, an instructor and performer in Circus In Motion, completed his Diploma and Bachelor(Hons) in Theatre in NAFA. He specializes in fire art (Poi, Staff, Fire Breathing, Fire Contact) as well as the Cyr Wheel. In the process of learning Aerial Silk, he is one of the main creative minds in Circus In Motion, and uses his talent to come up with the artistic directions for the different performances.
Your Exclusive
Perks
Lorem Ipsum is simply dummy text of the printing and typesetting industry. Lorem Ipsum has been the industry's standard dummy text ever since the 1500s,