Jay kicks off the show with his fast paced devilstick routine and his signature crystal ball act. Watch as he manipulates the crystal ball making them float with haunting beauty. An engaging plate spinning routine with him twisting his arms and rolling his body in weird angles follows.
He then switches to his loud and crazy self and conjures up a comedy escape act. In his escape act, Jay seems to have lubricated hands as he teases the audience and escapes from his wrist shackle held tightly by two brass padlocks with ease. In his grand finale, Jay defies gravity yet again as he juggles three razor sharp knives perched on top of his Rolla Bola tower. He has been featured in 14 countries around the world, such as Italy, Poland, Spain, Korea and the UAE.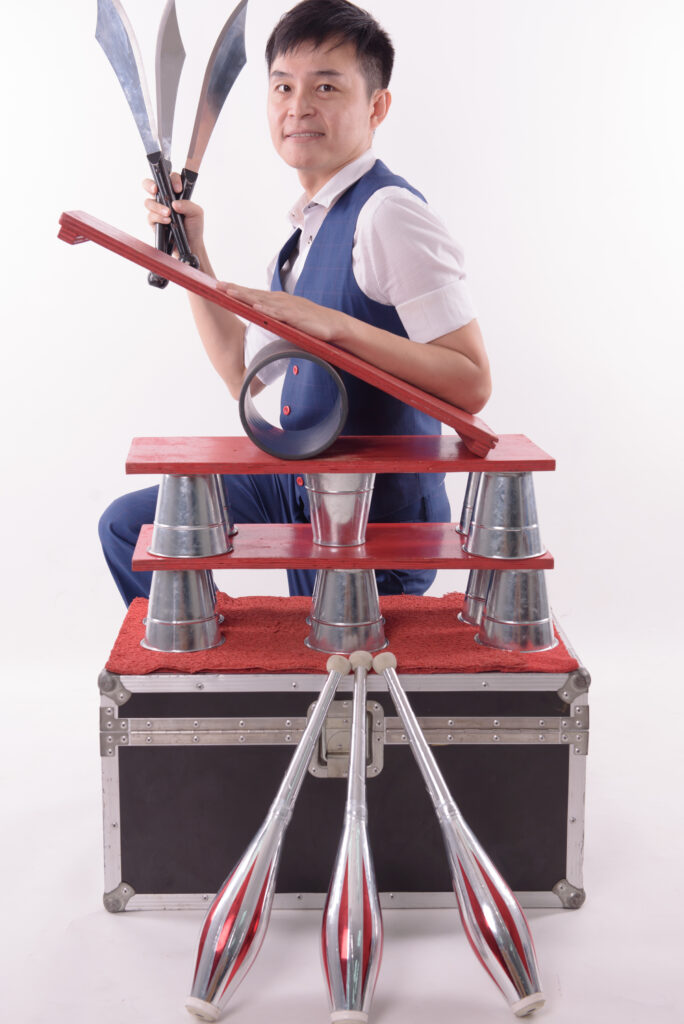 Bubbleworkz is a show whereby the bubble artiste would perform tricks  with single bubble to complex bubble structures. Be amazed by the artiste  merging and separating bubbles, and using smoke to create opaque bubble  effects. Volunteers would also be asked on stage in which the entire length  of the volunteer's body would be engulfed by a giant bubble. The Bubble-  workz promises fun with amazement and is a show for all ages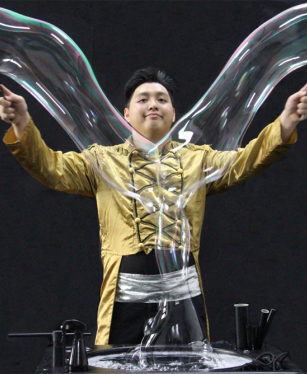 Le Petit Bar is a show with circus and balancing tricks centered around things you would find in a bar. On the menu are wine bottles capable of multiplying themselves. Audiences can also expect to see wine being paired with world's most famous fried chicken, KFC. But alas, the chicken has other ideas and comes to life. Lastly, audiences would be kept on the edge of their seats as wine glasses are stacked and balanced in different ways on the edge of a knife.
Our very own Chinese circus show which showcases  different acts from "The Hundredth Entertainment, (百技)" since the Han Dynasty. Acts include the fast paced Diabolo duo, modern plate spinning coupled with traditional ceramic bowl spinning and audience interaction. And not forgetting the Magic Chinese Rice Bowl act, an auspicious act which is especially suitable during Chinese New Year as the performer makes the bowl overflow with an abundance of rice.
'Lazer' has been presented in Singapore River Festival. It is a visual spectacle  created with a mixture of contemporary circus, LEDs and laser. Highlights of the  show includes laser bending and laser sword fighting, looking like a scene from  a Sci-fi movie. The show would culminate with a LED twirling performance.
Piece together your show based on your need and budget. Circus Extravaganza is a circus variety act put together by 10 acts. Acts ranges from fire twirling, to a highly skilled juggling passing act to a diabolo duo. Highlights of the show include the use of shapes to perform circus acts. Giant Cube and pyramids would be spun at high speed to create geometrical illusions while the finale features the Cyr Wheel, a human size wheel, with a performer rolling the wheel from the inside to perform his stunts.
Space Requirements: A space clearance of at least 5 metres by 5 metres with height of 4 metres is required for item 3-5. Flooring for Cyr Wheel would have to be ideally wooden or tiled surface.
Details of Show
1 Contact Juggling (1 performer, 3.5 mins or 6 mins)

Spinning Square (2 performers, 1.5 min)

Giant Cube (1 performer, 2 mins) 

.Spinning Tetrahedron (2 performer, 1.5 mins)

Cyr Wheel (1 performer, 3 mins) 

Fire Twirling/ LED twirling (1-4 performers, 2.5- 5 mins)

Juggling (2 performers, 13 mins) 

Diabolo (2 performers, 3.5 mins or 6 mins) 

Bowls and plates  2 performer (6 mins) 

Visual poi (3.5min)
Reviving a traditional form of entertainment during the Victorian times, presenting The Royal Flea Circus. Fleas are some of the strongest animals in this planet, often being able to lift 150 times their own body weight. They are also able to jump very high, and if it is human sized, then it can jump over the Eiffel Tower. Presenting The Royal Flea Circus, an informative and entertaining show in which we use fleas to perform classic circus acts such as springboard jumps, the Flea cannon balls and the high wire. All acts fit into a suitcase which we can perform in the comforts of your home.